CLEANER, FRESHER, SMOOTHER CBD CIGARETTES
Made from 100% US grown hemp, Hemp86 offers you a new alternative to smoking. Unlike traditional cigarettes, our CBD Stix does not contain nicotine or any addictive subtances.
Get all the benefits of CBD with our high strength CBD stix.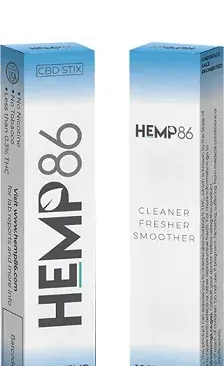 Our CBD cigarettes are legal in all 50 states. Each batch is tested to make sure that it meets all state and federal laws.
All Hemp86 CBD cigarettes contain less than 0.3% THC.
We strive on providing high quality Hemp from farms around the United States. Our hemp is grown using organic methods and is non-gmo. We utilize a special filtration system to deliver a smooth and effective smoke with each puff.
We strive on bringing you one of the highest CBD dosage per puff on the market
Each pack of CBD stix contains over 800mg of CBD.
5. What makes your product different?
No, our CBD stix contains very little THC (less than 0.3%). This is the psychoactive ingredient which gets you high.
You are legally able to purchase these in all 50 states. You must be over 21 to purchase Hemp86 CBD stix.
No, all our products contain only hemp. There is no nicotine in our CBD stix.
At Hemp86, we pride ourselves on delivery the highest quality. You are smoking Californian grown hemp that has been filtered and processed for smoothness, near odorless and high content of cannabinoids.